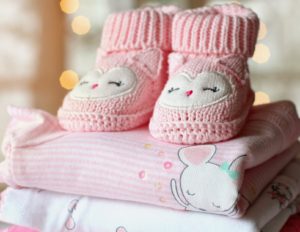 For first time moms, there may be many questions about what needs to be packed into a birth bag and what can be left at home. As part of doula training, your doula will learn what essential items should be packed and ready to go in case labor begins or an emergency occurs.
It is recommended that expectant mothers pack their birthing bag ahead of time, generally around eight months, in case your little one decides to arrive early. The amount of belongings expectant mothers decide to pack and bring with them is a personal choice, but here are a few things that should make their way into the "birth bag."
For Baby
Properly Installed Car Seat

Diapers and Wipes (some hospitals provide these, but it never hurts to be prepared

4 or more sleepers/onesies in newborn and 0-3 sizes (you never know how big or small your baby will be!)

Going Home Outfit if you feel like dressing your baby in something special when you take them home

Hats

Receiving Blankets
For Support Person
Comfortable shoes and clothes for during labor, along with a change of clothes for after birth to feel clean and fresh

A bathing suit (if you are doing a water birth and want them in the tub with you)

Toiletries—mouth wash is a must!

Deodorant

Money (for snacks if you don't bring your own)

Snacks (nothing that smells too strong)

Phone, charger, camera

Something to keep them entertained (i.e., book)

List of people to call
For Mom
Comfortable clothes to labor in. Pack layers, such as a robe, cotton pants, tops, sports bras, bathing suit, etc.

Slippers, flip flops, and socks

Phone and charger

Hair elastics/headbands

A copy of your birth plan

Music to listen to and/or magazines to read

Glasses if you wear them, as contacts are not recommended when pushing

Toiletries

Comfy clothes with room to breathe after the baby is born

Nursing bra

Maternity underwear that you're okay with throwing away after

Maxi pads

Your own pillow and blanket if you like. Make sure they are brightly colored so as not to be mistaken as the hospitals

Lotion

Snacks (things that are easy to eat while in labor, such as fruit, juices, protein bites, nuts, etc.)
Every mother is going to have a different list of items they want to bring with them. These are just a few things that doulas in doula training learn moms, babies, and support persons can't live without.