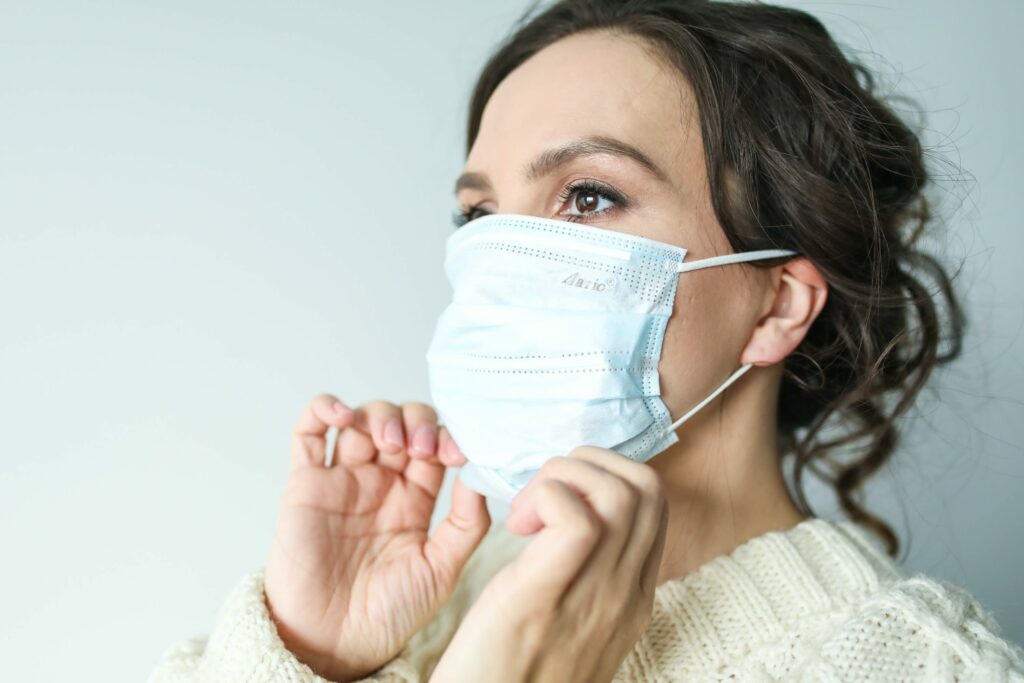 The International Doula Institute strives to support doulas, clients and communities by promoting best practice information. It is our responsibility as professional doulas to heed the advice and guidelines set forth. We should follow the CDC, ACOG and local authorities (including but not limited to individual hospital policies).
What does this all mean with covid-19 and doulas?
As doulas, it isn't uncommon for us to review policies through the lens of supporting birthing rights. We often question things which could contribute to a negative birth experience. However, as of March 2020 we are living through an unprecedented global pandemic. Covid-19, also referred to as the novel coronavirus, is presenting immense challenges. They impact our healthcare providers, including midwives, obstetricians and nurses. 
At IDI, we want you to know that we realize the difficulties you're facing.  As a doula, pregnant person or birth partner, 2020 is hard. Covid-19 and doulas presents a lot of challenges for our profession.
For our doulas, we want to provide you with ongoing support and education. We want to help you best serve your clients during these unprecedented times. IDI wants to help you understand why these policies may be in place in your area. Also, how you can continue to serve your clients while practicing any necessary physical social distancing. 
Covid-19 And Doulas – Why Are Birthing Facilities Making Restrictions?
Chances are you hear "flattening the curve" multiple times a day. This refers to our attempt to slow down the rate covoid-19 spreads. Most individuals who contract this virus will recover. However, unlike other illnesses, the percentage requiring hospitalization appears to be higher. Ventilation support is also higher with this virus.  This virus also appears to spread quickly. 
Flattening the curve is an important goal. We need to protect the most health care providers, reduce the spread to our vulnerable populations. Ensuring adequate availability of hospital rooms and ventilators is important too.
We spoke with experienced labor and delivery nurse, Gabrielle Deardorff of Royersford, PA.  Her words help us understand current recommendations in some US states. She was able to provide us with more information. As well as understanding and reassurance during this unusual time. 
Deardorff said:
"I've had three midwife attended births in the hospital where I work.  Each time surrounded by my 'squad'.  Over the years this squad was a mix of my husband, my mother, my dear friend and mentor as a labor nurse, my photographer, who after the first birth became my one of my best friends (obviously), my midwife and my doula.  
"With each child, as my labor began, I was comforted and empowered knowing the squad would be there.  Navigating pregnancy is such a mix of emotions, to be early in a pregnancy and have no idea what the world will be like when the baby is born is terrifying.  To be in your third trimester, ready to go with your own squad, and then getting the news only one person can be with you, is heart breaking.  
"This is something we as OB nurses are very much aware of.  We know we're with our patients on one of the most important days of their life and know they may also be grieving the loss of the birth they have been planning and dreaming of.  There really is no greater honor than the privilege we have as OB nurses to attend birth and guide families in their journey as parents from the moment their babies are born. 
"Covid-19 Is New"
"Covid-19 is new, but birth challenges aren't new to us. For example, our hearts have always ached for our patients who can't visit their babies in the NICU after emergencies. So, we snuggle their babies close when they can't, just like we will continue to do so now. Like that, we know how and why we need to provide extra emotional support during these difficult days. The experiences our patients have while laboring, birthing and during the postpartum period forever impacts their lives.  This is not something we take lightly. 
"My social media algorithm ensures my feed is full of birth, boobs and babies.  I've seen the posts of outrage and fear that visitation has been restricted at hospitals.  I've seen the posts that state doulas are first responders and encouraging clients and doulas to call local hospitals to express their outrage and hashtags trending to let the doulas in.  I love doulas.  I know firsthand that they improve outcomes.  However, I fully support my hospital's visitation restriction.  
Covid-19 and Doulas – "This Is Not The Time To Push"
"As birth workers we tend to push. Push to advocate for our patients. Push back when we hear words like "allow" and "policy", but this is not the time. Hospital administrators are responding to a deadly global pandemic.  To push now, would do more detriment to the hospital doula relationship in the future than benefit. I don't foresee the restrictions being lifted anytime soon.  I hope with every fiber of my being that we don't get to the point they are at in New York, where birthing people do not have their support people with them.  But we just don't know.  
"The truth is, there is such limited evidence on the Covid-19 pandemic. We don't know its effects on pregnant people and their children.  This is unprecedented, we just don't have the facts yet.  We are used to looking to the evidence to push outdated practices that do not benefit pregnant people and their families. However, we simply do not have that information available right now.  The evidence available is very limited.  These new restrictions are not to punish families, but to protect them.  No one wants to do anything that 'is probably okay' with any pregnant person or newborn.  
"Families Need Doulas"
"I do think expecting families need doulas now more than ever.  These families need doulas to prepare them, to support them to hold space and nurture, to empower their clients, to make them feel like they have the tools they need to beautifully birth their babies without their physical presence. As the saying goes, every storm runs out of rain. Hopefully someday soon all birthing people will have their squad back with them. With them as they welcome their children into this world."
While Deardorff can't speak for all L&D nurses, as doulas we can rest assured that many, many nurses share her experience and feelings. This isn't a scenario of doulas or birth advocates against birthing facilities and medical providers. Covid-19 and doulas is an unprecedented time. We all need to work together to support and protect those birthing and their families.
With Covid-19 and Doulas, How Can I Provide Support For My Clients?
As doulas, everyone at International Doula Institute empathizes with the current struggle. We all want to be hands on and caring for our clients. As doulas, we listened to our client's fears, concerns, dreams and birthing preferences. We know their desires, including that of continuous support. Our hearts truly hurt when we can't be there for them. 
However, while we can't physically be present, as Deardorff said, families need us more than ever! We want you to know that your work matters and remains a vital part of a birthing family's needs. Covid-19 and doulas is a very difficult thing to navigate. However, it isn't impossible.
As a professional doula adhering to current guidelines, you can still provide adequate support by:
Before Labor:
Provide extra prenatal education and support
Video prenatal sessions with their birth partner, when applicable. You can provide more information about how they can provide physical and emotional support during labor
Provide extra education about options, informed decision making, etc. Include handouts they can stick in their birthing bags for quick reference
Consider offering loaner "birth bags" to your clients. Include a rebozo, aromatherapy options, tennis ball for counter pressure, birth balls, peanut balls, etc.

Also, quick reference books (Birth Partner is great!)

Encourage clients to keep an open discussion with their providers. Current policies, recommendations, options, etc.

are frequently changing
During Labor:
Be available via text, call or video chat for real time support, suggestions, etc.

 

If you and your client have both been practicing social distancing, discuss early labor support at home. Be sure they've talked to their provider. It is important that if you offer this service you only do not go against current local mandates. It's important that a client discuss the benefit vs risk with their providers. The risk of covid-19 during pregnancy, postpartum and for the newborn remains unclear.
If desired, partners can wear earbuds throughout the labor so the doula can easily provide ongoing support, suggestions, etc.

 

Let clients know you are available and holding space
During The Postpartum Period:
Be available via video chat, text and calls to provide ongoing early postpartum support. You can also answer early parenting questions and be an ear to hear their birth story. Validate their feelings, frustrations, etc.

 

Provide early breastfeeding initiation support within your scope as a doula from a distance. Video support is great option
Be available to partners for support, answer their questions, and help them help their partners
Consider postpartum support care package with items you might typically bring with you to a shift. Perhaps a loaner baby carrier, personal care items for mom, etc.
Unfortunately, we may not be able to be physically present with our clients during these unprecedented times. While covid-19 and doula work is hard, we can continue to provide invaluable support to our clients. 
How Will My Doula Business Survive These Restrictions?
We know that your clients and their safety, and the safety of your community is a top priority for you. However, we also understand how much work and time you put into your doula business. We know how scary covid-19 and doulas can be when learning about restrictions.
We know that any loss in income is frightening and there are concerns about the future of your industry. At IDI we are here for you! We want to assure you that while this is a challenge for our profession, our work is still valuable! It will continue to stand the test of time as birth truly benefits from support. 
To help your business withstand consider the following:
Check the wording of your contracts. Ensure you have a plan for situations such as this. Just like your inclement weather, "acts of God", etc. Be sure you're compensated for the time and services provided even if you aren't physically at the birth
Consider how you can continue to provide valuable support in your community. You might provide prenatal education via video support, blogging, virtual doula support during labor, etc.
Use this time to further your education. For example, consider a childbirth education certificate, something you can easily use to support clients from a distance
Increase your online presence and network with other birth professionals
This is a difficult time for birth workers like doulas. However, our services still provide much needed support for our clients. While we figure out these difficult times, know that birthing families and staff likely miss the continuous support we provide. L&D nurses are prepared and willing to go above and beyond to care for our clients' emotions during these difficult times. However, they will likely be more than ready to welcome the support of doulas as soon as it is safe. We will be able to provide support to our clients and weary medical providers. Those providers who will have spent weeks, potentially months, having to work extra hard during these incredibly difficult times. 
As a professional doula, adapt and continue to provide support while respecting the needed current guidelines. And remember, the International Doula Institute is here for you! Please reach out for support and with any questions and concerns you have at this time. Together, we can all help slow the spread and hopefully get back to supporting our clients in person soon.