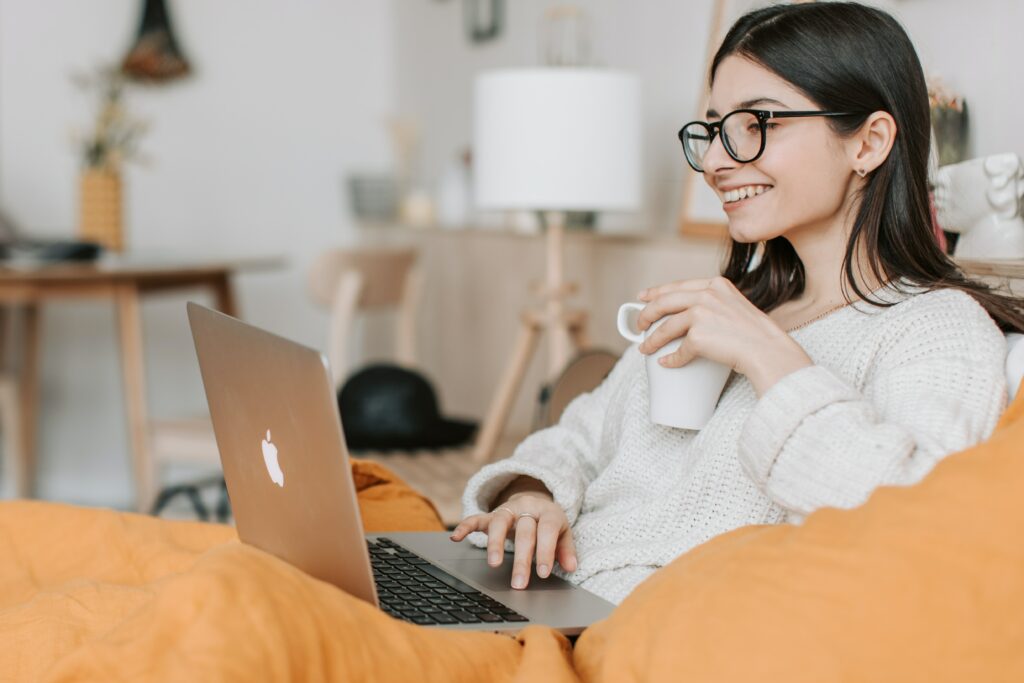 You can become a doula with online doula training and turn your passion into a career. The first step to becoming a doula is choosing your training. With many organizations, workshops, online programs, etc., how do you choose the right doula program?
One of the most important factors is choosing an up-to-date comprehensive program. Choosing an online doula training, like ours at the International Doula Institute, ensures you're learning the latest in pregnancy, birth and the postpartum period.
Online learning has always had many benefits. However, since 2020's unexpected social distancing and safety measures, the benefits of online learning are even more noticeable.
You can turn your passion into a career in the comfort of your own home, in a safe environment, and learn all the skills you need to support your future clients.
Here are more benefits of online doula training:
#1: Online Doula Training Supports All Learning Styles
By adulthood, many of us become familiar with how we learn best. With IDI's online training we're able to accommodate every learning style.
Whether you're a kinesthetic learning who needs hands on practice, an auditory learner, or a visual learner, our multimedia training will work for you. From videos with audio and subtitles to position practicing, you will have a truly experiential learning experience.
With access to everything online, you can take time to go back and review previous lessons. This is an advantage over in person trainings where if you've missed or forgotten something you might struggle to find the information again.
#2: Access To Comprehensive Up-To-Date Information
Gone are the days of outdated workbooks and curriculums. With online programs we're able to easily update all our curriculum as often as needed. A new peer reviewed, evidenced-based study comes out about the second stage of labor? Perfect, we can easily update our curriculum to reflect the new information.
One of the most important things doulas need to do is stay current with guidelines. We serve our clients best when we can help support them in informed decisions making about their birth. Not only will your training be up-to-date, we model and show you how to continually educate yourself about potential evidence changes in the birth community.
#3: Online Doula Training Allows You To Work At Your Own Pace
People of all backgrounds and stages of life have a passion for birth and pursue becoming a doula. Online training makes it possible for people with all types of schedules to pursue a new career.
Whether you're a college student, busy mother, or climbing the cooperate ladder (or all three!) our flexible training allows you to work at your own pace. Some students go all in and finish the training in six weeks. Others fit their training in during their toddler's naptime, evenings after work, or whenever they have time without rushing for several months.
Working at your own pace means adding doula training to your schedule doesn't have to be stressful. Whether you plan to knock it out quickly, or squeeze it in between your busy life, doula training online can work for you.
#4: Access To Doula Trainers, Mentors, And Fellow Students
With in person training, most have access to their trainer and five to ten peers. While there's a lovely in person comradery, there's a limited network.
With online doula training, you have access to multiple doula trainers, mentors, and thousands of students. In addition to the many students in your learning cohort, IDI students have access to a large international student group online.
This allows you to network internationally and learn about birth from a global perspective. It also allows you to network locally, creating more opportunity to grow your future doula practice. Learn from your peers and benefit from the guidance of more experienced doula mentors, a huge benefit of online doula training.
#5: Online Doula Training Curriculum Is Developed By Many Birth Professionals
While most doula trainings are developed by multiple professionals, IDI takes their training a step further. Their training isn't developed with only doulas an ob/gyn or midwife.
IDI's large reach allows them to work with:
Doulas
Midwifes
Physicians
Nurses
Lactation Consultants
Childbirth Educators
Nutritionists
As an online program, IDI has the ability to reach a high number of qualified professionals to ensure the training is evidenced based and peer reviewed. With online doula training you're able to learn from top professionals who you may not otherwise have access to.
Being able to turn your passion into a career is a unique opportunity. Being able to do so at your own pace while learning from top professionals are amazing benefits of online doula trainings. Beginning a new career can feel intimidating, but with IDI you have support from registration and beyond.
Ready to get started? You can register today!