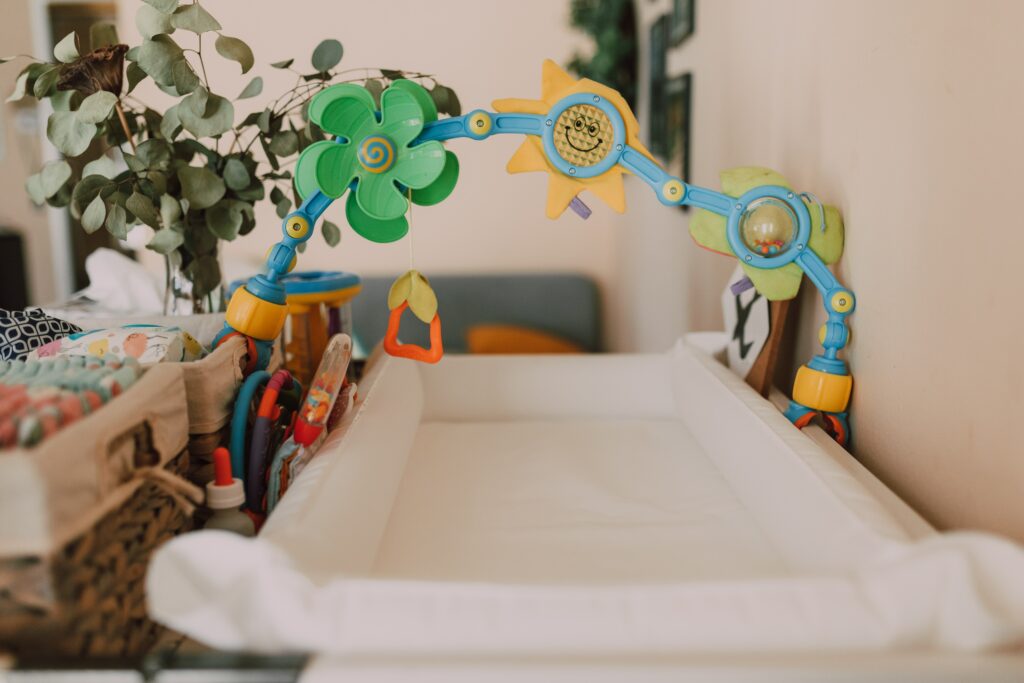 As a doula, you can provide more than simply labor support. Many clients will see you as an expert of everything related to pregnancy, birth, and babies. When a client is getting ready to make their baby registry, they may ask you for help.
Sure, you can hand them a list like the big box stores have. There's certainly nothing wrong with that. However, you can also provide them with out-of-box ideas to truly assist in the transition into parenthood.
Many big box store lists have more gadgets than parents truly need. Some items are even detrimental to evidenced based feeding guidelines, contribute to developmental concerns, and are even dangerous for safe sleep.
Here are some baby registry ideas for your clients to add to their list:
Easy To Dress Baby Clothing
Baby clothing is absolutely adorable. Buying mini suits and fashion items are great. However, in the early weeks, babies go through 8-12 diapers per day. Babies also benefit from frequent skin-to-skin sessions and may enjoy being swaddled. This makes these adorable outfits a bit less practical.
Suggest easy snap or zipper items which needn't go over baby's head. Items which are easy to get on and off so they can easily be changed and set up for skin-to-skin.
Zipper, snap, and even magnetic one-piece sleepers are ideal. Kimono style onesies are great. Some brands are even designed specifically for easy skin-to-skin.
Encourage parents to register for the practical clothes knowing plenty of people will still purchase the fun outfits.
Sleep sacks and light muslin blankets are also beneficial on the registry.
Comfortable Clothing For The Postpartum Period
Encourage parents to add items on the list for themselves. If they're not comfortable adding that to the registry, remind them to share if people ask what they need.
The immediate postpartum period is a time of rapid bodily change, healing, discomfort, all combined with joy and the comfort of snuggling a little one. Having a comfortable robe to provide a sense of security while giving easy access for breastfeeding can make things a little easier.
Soft items can provide positive sensory input while her body is healing from birth. Convenient and soft nursing tanks, nightgowns, and robes can make the early days and weeks a bit more enjoyable.
Gift Cards For Coffee, Food, And Convenience – A Baby Registry Must
Certainly, babies need items. However, when parents are cared for they can better care for their babies. Gift cards allowing for parents to grab some extra coffee without thinking of their budget can help them feel cared about.
Gift cards for convenient take-out or delivery allows parents to use at their convenience and need. It's also easier for families with specific dietary needs, allergies, etc.
Contributions Towards Doula Care
The ultimate gift is support during and after birth. When new parents are supported through the birth process, they are gifted a lifelong memory of being cared for. No, a doula cannot guarantee any specific type of birth. However, a doula can guarantee continuity of support regardless of how birth unfolds.
Contribution towards postpartum care allows parents to adjust with guidance and extra rest. Many parents have plenty of onesies, but little hands-on professional support.
Baby Registry Items To Promote Healing
Anyone who has given birth knows they weren't quite prepared for how much healing they would need to do. Encourage parents to consider items which aid in postpartum healing. The more focus on healing, the faster the healing can occur.
Being prepared before baby's arrival can save a late-night run to the pharmacy. Best of all, many baby shower guests have been there before. Adding an item or two to the registry lets other guests know the parents are open to these types of gifts. They may end up buying some of their favorite healing items remembering just how uncomfortable the early days can be.
Items such as witch hazel, peri bottles, nursing pads, nipple creams and ointments, herbal sitz baths, and more, can make excellent registry items.
Go Easy On Baby Gear
Babies need a safe space to sleep, a safe car seat, and often a safe space to be set down. However, many big box stores tell parents they need every and all types of baby gear. Yet overuse of baby gear is tied to plagiocephaly and even delayed milestones.
Encourage parents to get the safety items they need. Beyond that, play mats, little toys, and baby carriers are all excellent developmentally appropriate items.
As a doula, you can help parents get the items they really need as they prepare their baby registry.