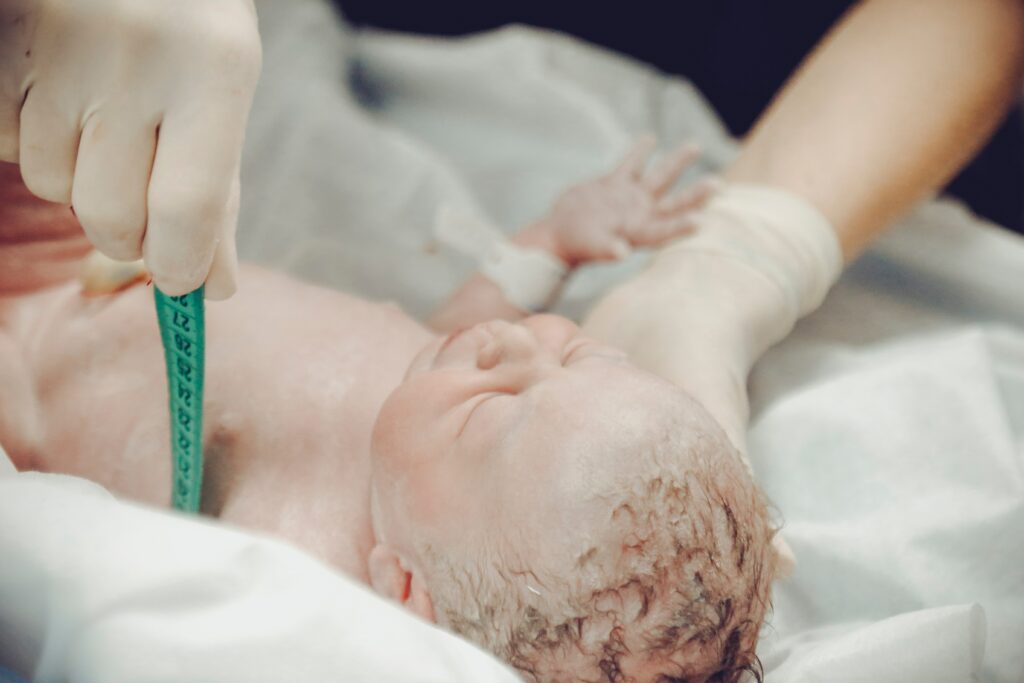 Whether your client plans to have an unmedicated or medicated birth, their environment can impact how labor progresses. Softening the environment for a more natural hospital birth is a great way to support your client during birth.
These five things can help your client feel more comfortable in a hospital. As a doula, you should not just make these changes. However, you can take time to educate and offer the practical support to do these things should they desire.
Your two or so prenatal visits are a great time to discuss softening the environment for a natural hospital birth.
#1: Adjust The Lighting For A Natural Hospital Birth
Hospitals are a place where detailed medical procedures occur. They need bright lights to pay attention to the tiniest details. However, during labor, bright lights can be distracting and even interfere with important hormones.
Keeping the lights dim can reduce stress or a feeling of being watched. It can also aid in releasing melatonin, an important hormone which works synergistically with oxytocin. In addition to dimming the lights (except when medically needed) clients might also find it helpful to:
Use flameless battery-operated candles for ambiance
Request people be conscious of the use of bright cellphones or electronics in the room
Ask the birth team to be conscious of lighting needs during vital signs checks, second stage, and immediately following birth. Many tasks can be done with dim or localized lighting and not the bright overhead lights
Help your clients understand the importance of a comfortable environment including lighting in the room.
#2: Pay Attention To Temperature
Birth is a complex hormonal process. All the hormonal surges on top of the already fluctuating pregnancy hormones can make one very aware of temperature.
If your client is someone who typically runs cold, encourage them to pack warm socks, a warm robe, a favorite blanket, etc. On the flip side, the intensity of labor can make some very warm. Encourage them to pack and dress in layers so they can add or remove clothing as needed.
Warmth is an important part of encouraging relaxation, blood flow (ideal for stretching perineal tissue), and comfort. However, being too hot can cause discomfort and feeling flustered.
#3: Be Conscious of Sounds and Noise For A Natural Hospital Birth
People give birth best wherever and with whomever they feel safest. More than that, however, the instinctual part of us can be impacted on a hormonal level during labor by the overall environment even when we logically know we are safe.
In addition to bright lights, hospitals can be noisy. For a woman desiring a comfortable birthing environment, it's important for the birth team to take her lead in terms of noise level.
While music, comedy, chatting, etc., might be distracting in earlier parts of labor, during transition many find noise distracting. Her birth team should respect her desire for quiet. Her partner or you as the doula can act as a "gatekeeper" of noise and lights to help her environment remain comfortable.
#4: Respect Her Privacy
The saying, "a watched pot never boils," rings true when it comes to laboring. People who feel watched and uncomfortable, or conscious about how they are laboring, could have higher stress hormones interfering with labor.
Even if labor is progressing well, someone is more likely to report a negative experience if they feel uncomfortable. Take time to educate your client about their patient's rights. If they are a more reserved person, they can request no medical students, no additional visitors, etc. to have more privacy during their birth experience.
#5: Bring The Comforts Of Home For A Natural Hospital Birth
Feeling comfortable is an important part of having a positive birth experience. Comfort isn't simply coping with contractions or using pharmacological pain relief. Comfort is a feeling of safety, warmth, and feeling as if you can fully relax.
While a hospital is just that, a hospital, it can be made comfortable. All the above are ways to bring in more comfort. In addition to the ambiance, clients might find simple things like:
Bringing their own pillows
A soft robe
Warm fuzzy socks
A favorite blanket or throw
Slippers
Birth balls
Using a warm shower or a tub if available
Heating pads, rice socks, hot water bottles (unless they've had an epidural making heat a risk).
Suggest your client think about things they find helpful when they are sick and relaxing when they want to unwind. Some of those things may easily translate to things they can use during labor for extra comfort.