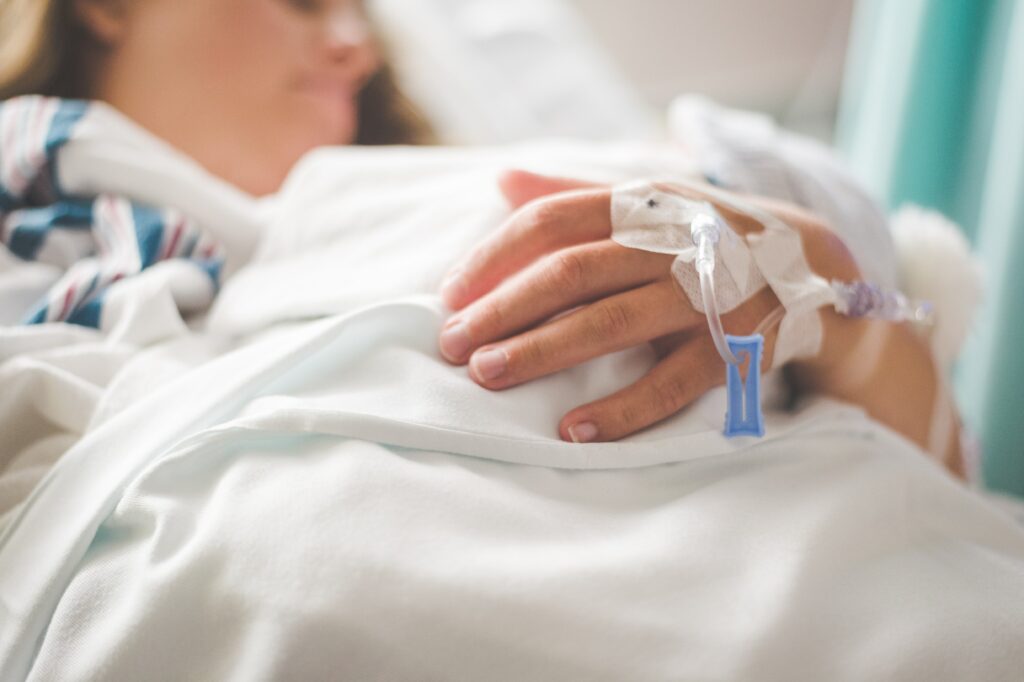 As a doula, you are a non-medical support for pregnant, birthing, and postpartum families. While you are not a clinical provider, it is important you are familiar with common medical issues which impact the people you work with. Understanding hyperemesis gravidarum (HG) is important so you can provide evidenced based support to clients suffering from HG.
If you are familiar with medical terminology, hyperemesis simply means excessive vomiting. Gravidarum refers to pregnancy. However, HG is more than just vomiting.
While morning sickness impacts 50-90% of pregnancies, HG impacts just 0.5-2% of pregnancies. Morning sickness is considered a typical symptom of pregnancy. Medically, morning sickness is referred to as nausea and vomiting of pregnancy or NVP. HG is not a typical pregnancy ailment and always requires professional medical support.
As a doula, being familiar with symptoms of HG can help you in providing your clients with support, resources, and the information to self-advocate for adequate treatment.
What is Hyperemesis Gravidarum?
The HER Foundation is a leading expert in hyperemesis gravidarum. They explain it as unrelenting nausea and/or vomiting which leads to a loss greater than 5% of pre-pregnancy weight, symptoms which interfere with daily activities, and dehydration leading to the production of ketones.
However, if you ask someone who has experienced HG, they will describe it in a way which paints a greater picture of what it truly is. HG is truly life altering. It takes good things, gives bad things, and ultimately changes families.
The simple ability to stay hydrated, a basic need for physical and even mental wellbeing, is quite nearly impossible with HG. Many with HG cannot even eat, and if they can, the food immediately comes right back up. It can ruin teeth, steal time from children, ruin careers and finances, and in severe cases it can even lead to the loss of the pregnancy.
As a doula, if your client mentions any of the following symptoms, you should strongly encourage her to speak to her provider and be insistent about treatment:
Inability to drink enough
Frequent vomiting
More than 24 hours without keeping food down
Dark, foul-smelling urine
Severe nausea impacting her ability to care for herself (e.g., unable to shower)
Ongoing dizziness, especially if it leads to fainting (should seek help immediately)
Feeling of ongoing vertigo
Overall inability to function most of the day
Is HG That Much Worse Than Morning Sickness?
Morning sickness is highly inconvenient and uncomfortable. Some might lose a couple pounds and occasionally struggling with staying well hydrated. However, with typical morning sickness, there's an ability to function decently, just at a slower pace.
With HG, there's an inability to function well, if at all. One woman who experienced both NVP and HG as morning sickness being getting sick, washing your face, and then going about your day, but HG as getting sick and never being able to function without feeling as if you're about to collapse.
While some call HG severe morning sickness, it is truly far beyond morning sickness.
Things such as ginger, crackers, eating before getting out of bed, none of those things work for HG. It is not a normal pregnancy side effect; it is a medical condition in need of treatment. As a doula, the best thing you can do is encourage a client to seek medical care and never push NVP remedies.
What Are The Effects Of HG?
Untreated or undertreated hyperemesis can lead to miscarriage, and in 10% of HG pregnancies even termination for medical reasons as not everyone receives proper treatment.
HG also often impacts future family plans as parents cannot fathom repeating such a difficult ordeal no matter how much they desire more children.
HG can lead to:
Suffering strong phantom odors
Weight loss with ongoing metabolic issues
Depression and anxiety
PTSD
Side effects from needed medications
Ongoing gastric issues and damage
Dental problems
Food issues
Painful treatments with risks such as PICC lines
Relationship difficulties
And that is only a partial list. When treated properly, some cases of HG respond well to treatment. Often, women are undertreated or not taken seriously. In rare cases, there is no relief with treatment, only basic management.
Where Can One Get Help With Hyperemesis Gravidarum?
As a doula, you are non-medical and cannot give medical advice. However, you can provide resources, especially if a client is undertreated.
Some are never prescribed medication even after losing over 10% of their body weight, some fight for necessary fluids and some are erroneously told termination is their only choice. If you have a client in that situation, refer them to these websites: