At the International Doula Institute, we are committed to helping students be fully prepared to offer holistic support to their clients as soon as they complete their program. One of the most important things during pregnancy and in the postpartum period is proper nutrition.
At IDI, we recognize that to truly support families we need to have evidenced-based information for our clients. By including nutrition education in our trainings, we ensure our childbirth educators and doulas can educate their clients in a way which improves outcomes.
Pregnancy is a time of rapid change while growing an entire human. That is no small feat! Adequate nutrition can protect against pregnancy hypertensive disorders, reduce the risk of gestational diabetes, and should either condition still occur, it can reduce complications.
Getting proper nutrition can also make healing from pregnancy easier.
What Do Birth Doulas and Childbirth Educators Need to Know About Nutrition?
As doulas and childbirth educators, you are not a registered dietician. It is outside your scope to provide specific nutrition advice. However, providing general nutrition information is absolutely part of your scope, and a very important part.
During pregnancy, it is important that people get adequate calories, calcium, folate, iron, protein, and more. Even if there is subpar nutrition, baby is likely to be fine, however, the mother's body experiences side effects.
For example, upwards of 16% of pregnancies will lead to iron deficiency anemia. This can increase the risk of pregnancy complications, postpartum hemorrhage, and contribute to longer postpartum recoveries.
We cannot direct clients to take an iron supplement. However, we can explain the importance of iron, recommend they discuss whether supplementation is needed. We can also provide information about healthy food sources for iron. An iron rich diet is one of the safest and healthiest ways to maintain iron levels during and after pregnancy.
The recommended daily allowance of vitamins and minerals varies based on pregnancy status and lactation. Here are current recommendations: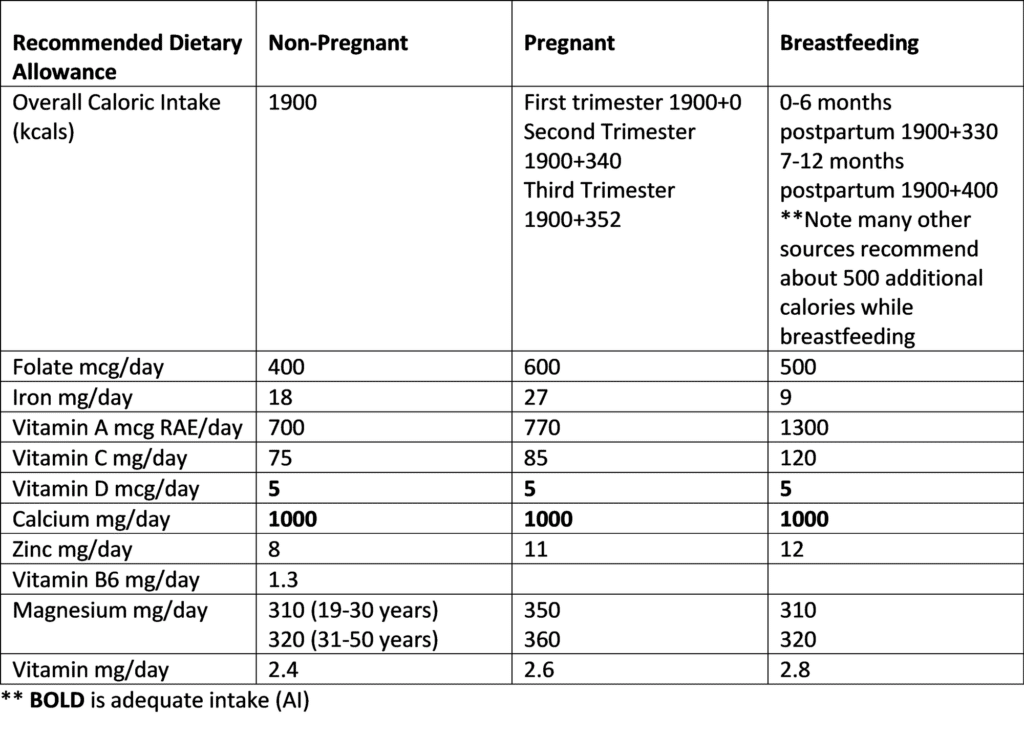 How Do Doulas and Childbirth Educators Teach About Nutrition?
During prenatal visits, birth doulas can help clients understand the importance of nutrition. It is important to recognize that many clients may face nausea and vomiting in pregnancy making nutrition hard. Be sure to be empathetic while discussing overall nutrition.
For childbirth educators, many incorporate nutrition throughout their regular childbirth classes. At IDI, we encourage our certified childbirth educators to include pregnancy wellness into their classes. This is a great way to truly support clients.
Some easy ways to incorporate nutrition is to compare the nutrients in some popular easy snacks. You could bring some Snickers minis (nothing wrong with an occasional treat!) and peanut butter with sliced apples. Then provide the information for the different nutritional values.
Snickers: 250 Calories
110 fat calories
12g fat
33g total carbs
1g fiber
27g sugar – Mostly processed
4 g protein
2% Iron
Serving of PB, apples and celery: 276 Calories
16 g of fat
25g total carbs
5g fiber
16g sugar – Natural and unprocessed sugar
8g protein
6% DV iron
I like to explain that if they're out and about and their only option is processed foods, it's still important to eat. During pregnancy, it's important not to skip meals and snacks. So, if the only option is between a plain milk chocolate bar and a Snickers, the latter is at least a source of some protein. However, for regular nutrition, obviously peanut butter with apples and celery is a significantly healthier option.
Share Meal Planning Information
An easy option to highlight good nutrition is to share the Canadian dietary recommendations plate. It is an easy to follow image with examples of healthy food options.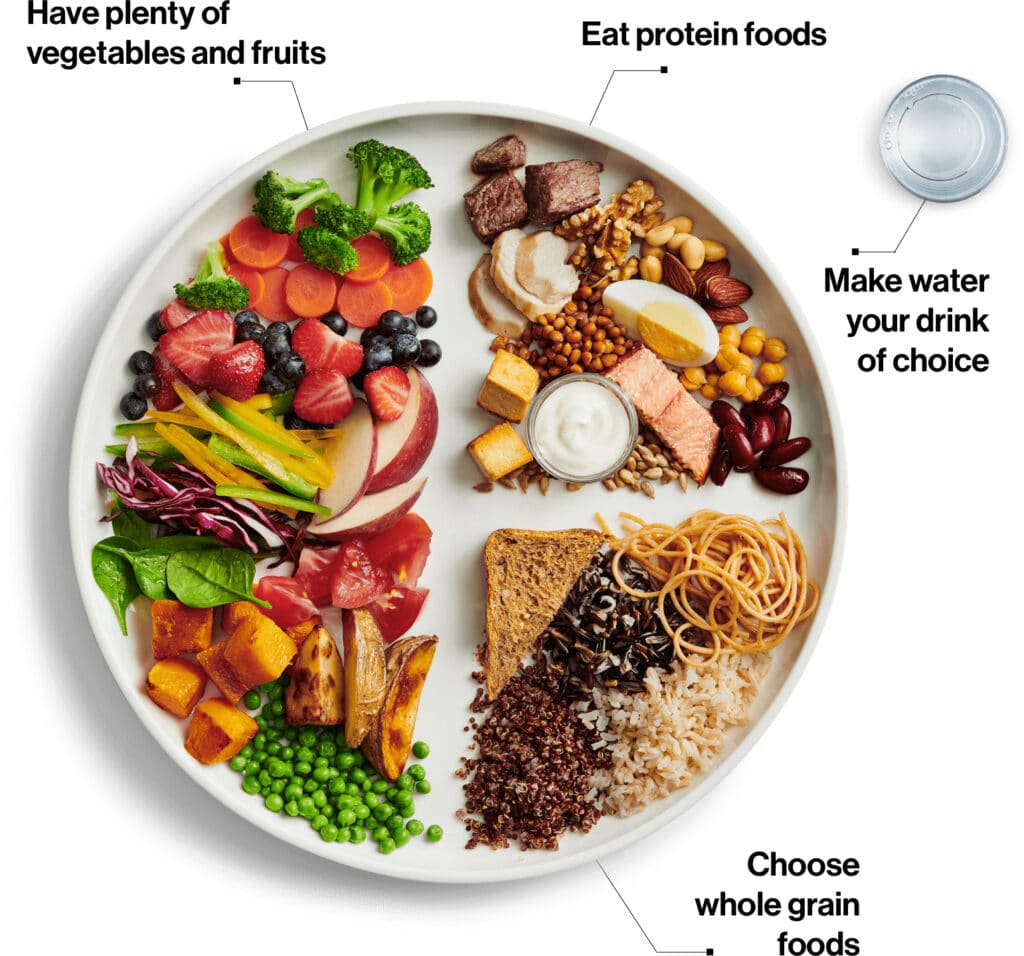 Learning About Nutrition For Birth Professionals
During your doula and childbirth educator trainings at IDI, you will learn about current dietary recommendations, meal support and recipe ideas to share with clients, and more. Our training are designed to ensure you're fully prepared to jump in to birth work – REAL holistic birth work.
Are you ready to learn more? Get started today by clicking here to register!