As doulas, our role is to provide holistic family support. This means that as professionals, we aren't simply holding people's newborns during recovery. This means we encourage evidenced-based healing, bonding, and postpartum wellness. And of course, postpartum nutrition education.
A major factor for postpartum wellness is adequate nutrition. During the previous nine months, a birthing person's body goes through immense changes as they grow an entire human being. Their nutrient stores are often depleted, especially if they faced prolonged nausea and vomiting of pregnancy.
During the postpartum period, the body goes through a more rapid changing process as the uterus returns to typical size, edema resolves, and hormones fluctuate. In as many as 30% of US births, there is also recovery from major abdominal surgery.
All these things can benefit from adequate nutrition, and they can also be prolonged or worsened from poor nutrition.
Fortunately, our amazing human bodies can provide adequate human milk for our babies even in the wake of a subpar nutrient status. However, just like in pregnancy, if the person is not consuming adequate nutrients it is pulled from the body's stores. This means poor nutrient intake can lead to anemia, low calcium levels, vitamin B deficiencies, and more.
Even without deficiencies, poor nutrition will make a new parent feel extra exhausted and unwell. For these reasons, it is vital that postpartum doulas understand and can support good nutrition in the postpartum period.
What Do Doulas Need to Know About Nutrition?
As a postpartum doula, you are not a licensed dietician, so you are not prescribing specific diets, supplements, etc. However, you can provide evidenced-based general nutrition information and recommendations for overall healthy food options.
During the International Doula Institutes Postpartum Doula Certification Program you will learn all about necessary postpartum nutrition. When you understand current recommendations, you can support your clients with healthy meal and snack planning.
IDI is based in the US and often shares US recommendations. In our training course you will find current USDA guidelines, as well as guidelines from Canada. For this article, I'm sharing with you the current guidelines from Canada as it provides a very simple breakdown of balanced nutrition.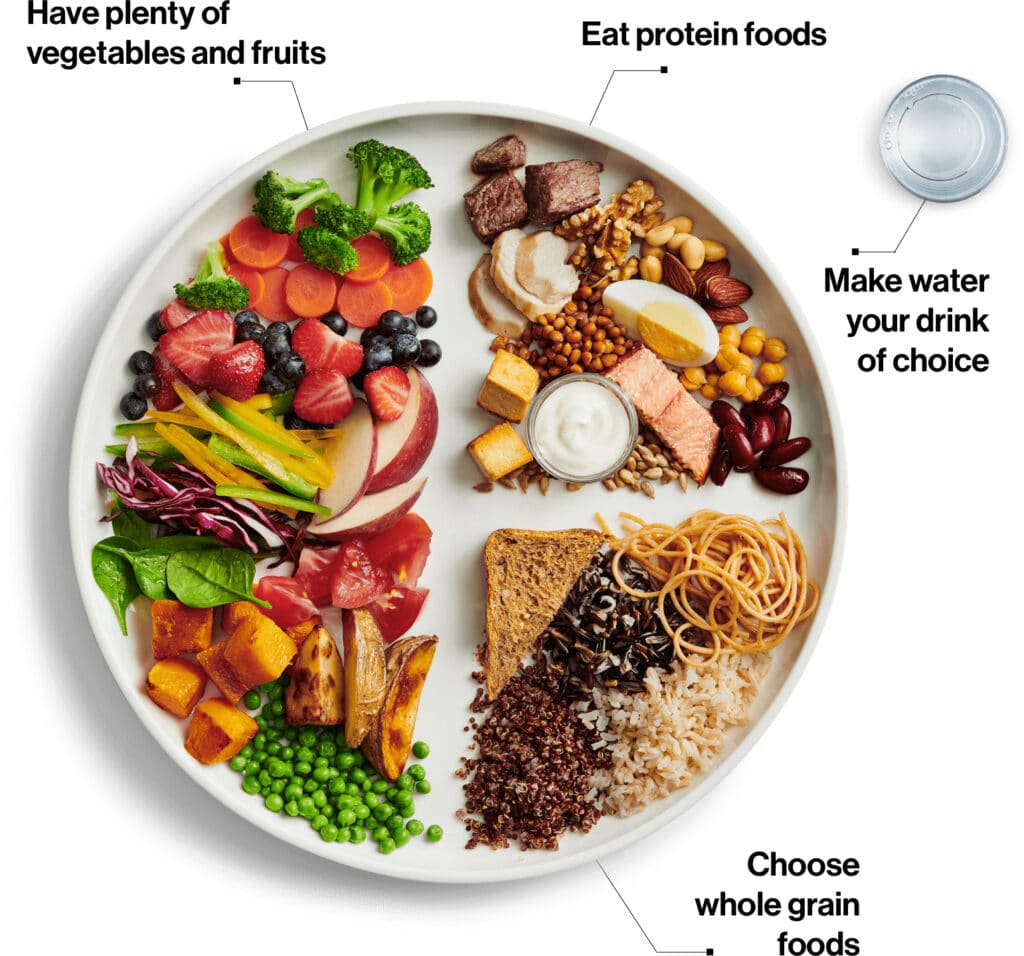 What About Specific Supplements?
The recommended daily allowance varies based on pregnancy status and lactation. As a postpartum doula you should not provide any specific recommendations on supplements for vitamins. However, you can share information about general recommendations for continuing a prenatal vitamin or other multivitamin. They should check with their providers for more information.
Here are current guidelines: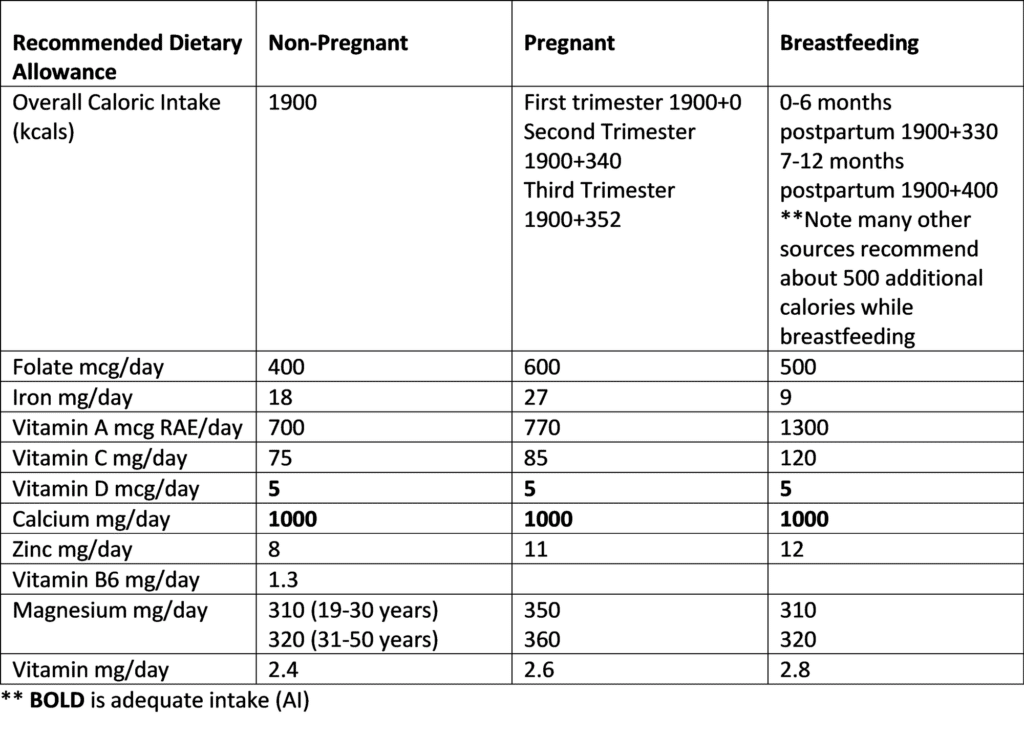 You can also remind clients that a diet rich in iron can be especially important following childbirth. Their providers might prescribe an iron supplement if appropriate but taking without need can cause unnecessary gastric upset.
During our postpartum doula training, you will learn about a variety of recipes, recommendations, etc., from registered dieticians and resources to help your clients make healthy food choices. You will learn about the importance of leafy greens for iron, protein for healing and energy, and fiber for supporting the gastric system in healing after birth.
Supporting Clients With Meal Preparation
As a doula, you will provide holistic support to families as they adjust to life with a new addition. Providing meal support is a vital part of nurturing families during this time.
Our thorough postpartum training includes information about healthy meal and snack options. It also includes important safe food handling guidelines to ensure you keep your clients safe. Have clients with allergies, special diets such as vegan or kosher? We cover that too!
Our training ensures all our trainees can provide support for ALL families regardless of their circumstances. Best of all, our training even makes it easier for you to navigate meal planning for yourself and your family.
IDI provides holistic support to our students. In turn, students can then provide holistic support to their clients.
Are you ready to get started? Be sure to register now for our newly updated Postpartum Doula Certification program. Improve your life and the lives of new families in your community!