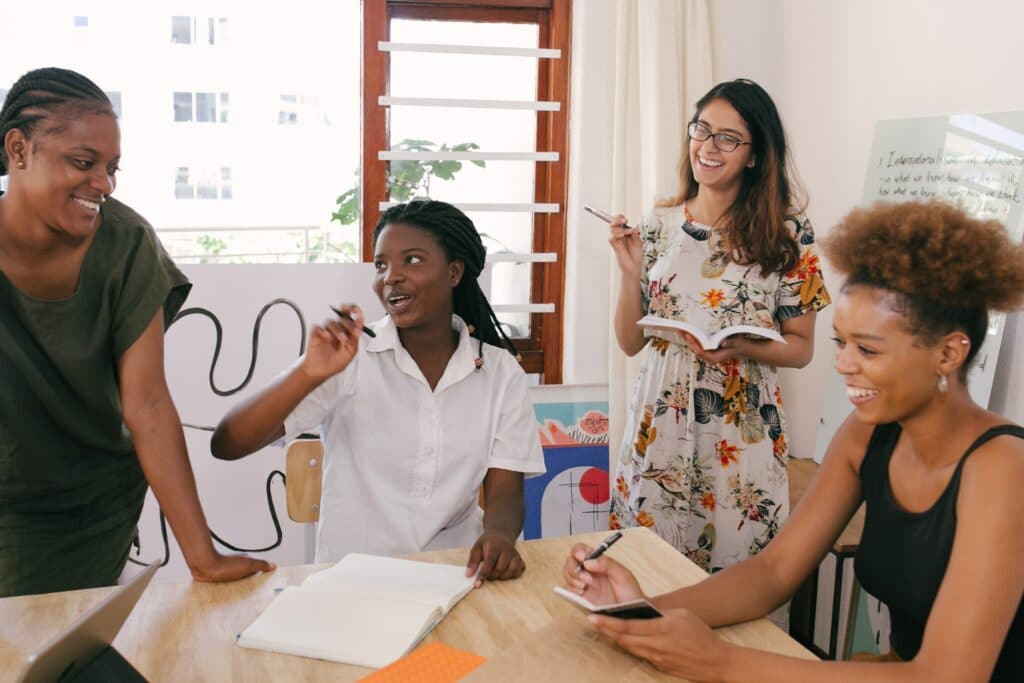 At the International Doula Institute, our name says it all. We are an international doula organization and business. We strive to meet the needs of all birth workers and birthing families. Diversity, equity, and inclusion training is an important part of meeting the needs for all.
We strongly believe every person deserves dignity in birth. This can only be achieved when professionals understand how to meet each client with empathy, support, and understanding. Diversity, equity, and inclusion training helps ensure more families experience dignity in birth.
What Is Diversity, Equity, and Inclusion in Birth Work?
We get it, if you are in the United States, where many but certainly not all our students reside, you hear these buzzwords often. It is easy to assume they are political in nature or something simply from your HR department at work.
However, at IDI, we know the real reasons behind diversity, equity, and inclusion and they are neither political nor HR related. They are necessary components in dignity in birth.
You see, diversity is simply a state. A place is either diverse or it is not. Our student body at IDI is incredibly diverse. This is important and something we value. Our staff is also diverse, another thing we value. However, simply being diverse is only part of the equation.
Real Diversity, Equity, and Inclusion
Diversity is a fact. A place, an organization, a group, etc., is simply diverse or it is not. IDI simply being diverse is not going to improve birth work. If all we needed was diversity to improve birthing outcomes and spaces, we would be good. However, it is clear we need more.
Equity is a choice. A company, organization, space, etc., needs to make the choice to have equity. This means ensuring everyone has what they need to be successful. For IDI, this means ensuring all our students have the tools to complete their training.
If you are a doula with a disability, language barrier, etc., we focus on equity which aids in your being able to complete training. With our DEI course, we ensure our birth workers have the skills to provide the same equity to their clients.
When one chooses equity, they can take the action of inclusion. This means everyone has a voice and a seat at the table. At IDI, this means our diverse leadership ensures our curriculum is representative of many types of birth workers. It also means we want to hear from all our students about areas we need to improve.
As a birth worker, the action of inclusion means creating a space comfortable for all clients and colleagues. It may also mean taking part in community action and advocacy groups.
What Does IDI's Diversity, Equity, and Inclusion Training Cover?
At IDI, we believe becoming a doula is more than simply understanding the birth process. Pregnancy and birth are times of vulnerability and unique experiences. Our knowlesge must go beyond basic understanding to truly provide appropriate birth support.
We have always required emotional intelligence education as part of our trainings. We believe it is vital to be able to interact with clients in safe and meaningful ways.
However, as we learn and grow, we are understanding the importance of ensuring our work includes learning how to be empathetic and supportive to all clients and their families.
Our DEI training includes:
Understanding Ethnocentrism
History of Discrimination
Systemic Racism
Complexities of Being Part of the Solution
Culture and Language Barriers
Birth and LGBTQ+ Families
Religious Discrimination
Accessibility in Care
Parenting With Disabilities
And more!
To support all clients, we need to understand what they could be bringing with them. Obviously, we need to never make assumptions about what a client might carry. However, when we have the background knowledge, should they share a particular difficulty with us, we can offer appropriate support and care.
Become a DEI Certified Doula Today!
Doulas are beginning to branch out to more work than simply attending births. With a DEI certification, you equip yourself to become a bigger asset to your community, local birthing facilities, and more.
Doulas are often a part of non-profits, community organizations, and even local and federal government projects. The more we understand about social determinants of health, discrimination, and barriers, the better we can support our clients.
Ready to get started? Register today and advance your birth work carrier! This course is also ideal for nurses, midwives, OB/GYNs, lactation consultants, and more.