As birth workers, it is imperative we be aware what is happening in reproductive healthcare. At the International Doula Institute, we recognize that abortion can be a difficult and divisive topic. However, it is important we acknowledge the historic impact and implications of Roe v Wade being overturned.
Regardless of your personal, political, or other beliefs around abortion and access to reproductive healthcare, we must know current laws. We must be aware of current restrictions, protections, and what major healthcare organizations are saying.
Professional birth workers will be a point of contact for many. It is important for us to be aware of what ACOG, ACNM, WHO, and what other major healthcare organizations say regarding current laws.
These laws, restrictions, and protections will vary location to location. Be sure to check your state's current laws.
Why is Roe v Wade a Big Deal?
Prior to Roe v Wade, while abortion was not illegal everywhere in the US, it was not legally protected. In most states, it was illegal. The passing of Roe v Wade ensured federal protection for the right to be able to seek an abortion.
Specific laws continued to vary state to state, but Roe v Wade still provided a level of protection. With Roe v Wade overturned, states can currently ban abortion all together, at a certain gestation, or in certain circumstances. In some cases, we even see bans or delays in treatment for those facing incomplete abortions, ectopic pregnancies, etc., which can be fatal when left untreated.
What is An Abortion?
For many people, especially those who are not birth workers, the word abortion often means an elective procedure designed to terminate an otherwise viable pregnancy.
However, as birth workers, we should be aware that the medical term 'abortion' means many things. Spontaneous abortion is the medical term for a natural miscarriage beginning on its own. An incomplete abortion may mean a spontaneous miscarriage occurs but not all tissue is expelled. A missed abortion is a medical term for a missed miscarriage which is when fetal demise has occurred, but the body has yet to recognize and begin the miscarriage process.
Surgical abortion treats incomplete miscarriages, missed miscarriages, and ectopic pregnancies. Without this access, major complications can occur. Cytotec, methotrexate, etc., treat the above in certain circumstances.
And then there is of course elective abortion, or elective termination, which can end pregnancies when there is no medical indication. Abortion treats situations where a pregnant person's life is at risk before viability. Abortion also treats situations where baby is incompatible with life.
What is Late-Term Abortion?
While we often hear about late-term abortions, the reality is these are induced labors. Labor induction before viability occurs in medical situations where a birthing person's life is in danger, or the baby has a condition incompatible with life.
It is a common misconception that parents carry babies near or to term, and then decide to have an abortion. In these late-term situations, we are typically seeing parents decided based on medical advice when a baby is suffering from a catastrophic condition such as anencephaly. Typically, these are induced labors and families are given time to meet and say good-bye to their baby. For others, they choose to carry their baby to term and wait for spontaneous labor.
Each family will choose what feels safest and most loving for them and their baby when they have the autonomy to do so. As birth workers, it is imperative we reserve our own feelings about their circumstances and remain professional.
Not all doulas provide support for families in these circumstances. If it is not a service you provide, it is often most professional to be aware of the birth workers who do. Then you can provide grieving families with resources.
What Does ACOG Say About Roe v Wade? Other Organizations?
Shortly after the ruling, ACOG released a statement saying:
"ACOG condemns today's Supreme Court decision in Dobbs v. Jackson as a destructive setback for ob-gyns and patients. However, our resolve is unwavering, and we will continue to support all people who struggle against laws and regulations that interfere with the patient–physician relationship and block access to essential health care."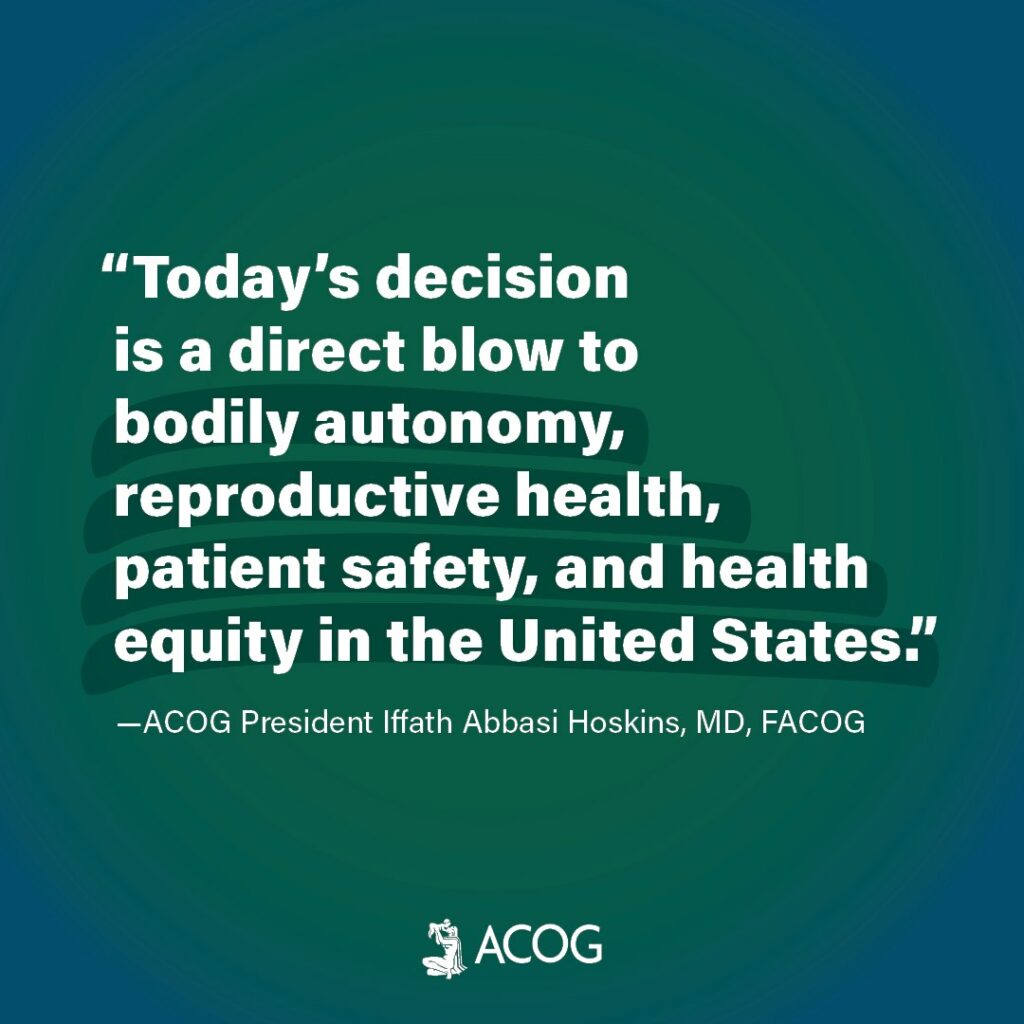 The American Society of Reproductive Medicine said:
"Physicians, midwives, nurse practitioners, nurses, and researchers agree – the Supreme Court's decision to restrict access to abortion care will lead to unnecessary patient suffering and harm."
Be sure to read their full statement by clicking here. This is a joint statement by multiple organizations.
What Should Doulas Do About Roe v Wade?
Beliefs around abortion and reproductive rights can be steeped in political, religious, moral, etc., beliefs. At IDI, we encourage all birth workers to be aware of current laws, guidelines, and access or lack of access to reproductive healthcare in their area.
What you choose to do with that information, can be a personal decision. Some doulas are adamant supporters for reproductive rights and freedoms and choose to advocate in a variety of ways. There are doulas who are full spectrum doulas and provide services for those experiencing spontaneous loss or elective terminations.
Other doulas believe in reproductive freedoms but do not choose to engage in advocacy. And there are also doulas who disagree with elective abortion in some or all circumstances.
At IDI, we believe in providing clients with evidenced-based, peer reviewed, information regardless of our personal beliefs. If you are not comfortable providing clients with information, it is best to point them to another professional who can assist them in finding current guidelines in accordance with ACOG, ACNM, etc.