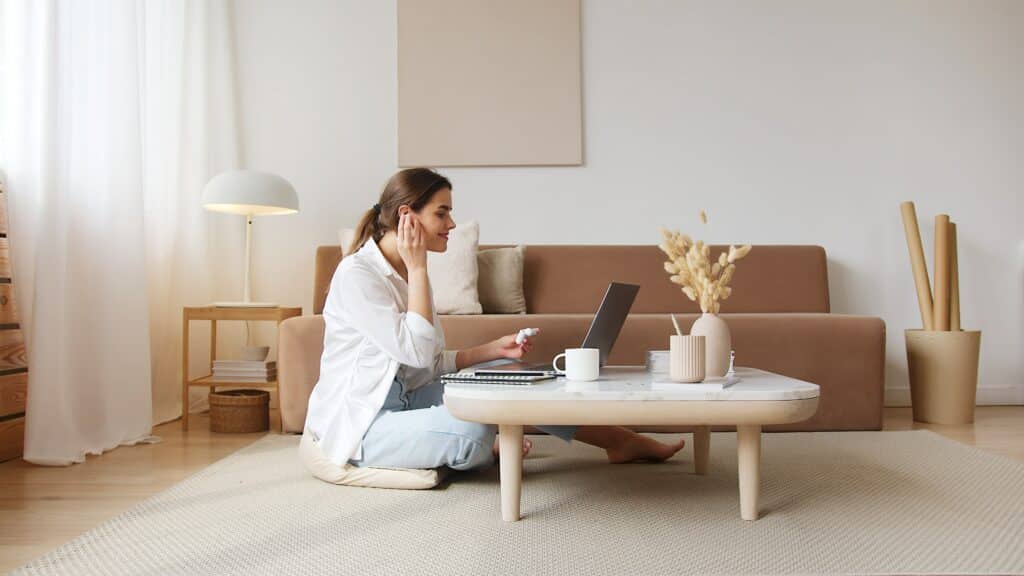 We have seen online birth workers for years, however, Covid-19 really impacted how many we saw. Can you work as a doula online? After 2020, many doulas would say, "Absolutely!"
At the International Doula Institute, we provided you with information about providing virtual support. Many of us found ourselves with in-person clients we could not actually provide in-person support for. Covid-19 impacted every area of work, including birth work.
As a training organization, we find it important to help you learn about all your options. In short, you can absolutely work as a doula online. However, there is also more to it than you might see on social media.
We chatted with Kelly Kolb, Childbirth Educator, Doula, CLC, to learn about her experience working online. She is an experienced doula who broke into the online scene at the peak of Covid-19. However, her extensive birth work experience before Covid-19 means she has a lot of valuable experience to share.
Before Online Work, There Was Traditional Birth Work
When many of us at IDI first began our birth work, online training was not much of a thing. And online birth work services? A rarity.
However, as the internet became more efficient and accessible, many of us found massive benefit in online training. In fact, it made it possible to not just train but easily access continuing education in birth work.
Once social media really took off, we started seeing doulas and childbirth educators providing general support. Eventually, we even saw doulas providing virtual birth support. Wanting to learn more about this option, we chatted with Kelly Kolb.
She shared about the start of her birth work and how she eventually began work as a doula online:
"I did traditional, in-person birth work for 4 years before beginning to teach online. When COVID hit, like so many birth workers, most of my work went away. In-person classes were cancelled, most of our local birth places stopped allowing doulas to be present, and some clients lost income and/or job security, so had to cut back or cancel services.
"Besides impacting my family's income, this also left so many families with little option for education or support to prepare for their births and parenting."
Kelly did not initially set out to work as a doula online. But like many of us, it became necessary not only for our own business but so families could have support.
Work As A Doula Online – Getting Started
Roman philosopher Seneca once shared the wisdom that, "Luck is what happens when preparation meets opportunity."
Work as a doula online, especially during Covid-19, likely falls under such a quote for many. To provide support to a virtual client, work with a company, etc., you need to be properly prepared. Technically, anyone can call themselves a doula, we are not a regulated field.
However, without proper training, any company, organization, or family is likely to move onto someone with proper experience. And to work online, more than just training, most doulas will have taken the time to also build up their in-person experience.
Kelly shared, "An opportunity came up to build a curriculum for new parents including birth, postpartum, breastfeeding, and newborn care, and work with a team of doulas and childbirth educators to teach families across the US and Canada. It was so meaningful to help families find community, support, and the information they needed.
"We had so many special moments of connecting families across distance when they were feeling isolated. Whenever one would ask a question or share an experience, others would nod, agree, or send virtual hugs to each other."
Kelly was trained, experienced, and able to jump at the opportunity to assist in curriculum development for new parents. From there, she was able to provide doula work and support to clients all over the world!
The Benefit of Working Online
As doulas, we can all agree there is something special about providing in-person support. In fact, I think we would all agree we provide amazing hands-on support for our clients.
However, while there are obvious benefits to in-person support, there are also benefits to online support. For doulas, this looks like:
Being able to offer support to more families
Less travel time and expenses
More flexibility
Expanding your experience
Working with more demographics and in more locations
Diversifying income and potential client base
And for families, Kelly shared:
"We also found that online teaching provided opportunity to support some families in unique circumstances: online classes permitted a military family with parents stationed in different parts of the world to participate in class together. Ex-pats were able to access English-language classes.
"And we found that partners were particularly engaging with online classes as it gave them a chance to connect with the pregnancy at a time most could not attend prenatal visits or ultrasound appointments."
 Can You Work As A Doula Online Post-Covid?
As covid-19 restrictions eased up a bit, many doulas were able to return to their in-person work. However, many have found a hybrid style of work continues. This hybrid style allows for a bit more flexibility and the ability to reach more families.
Kelly explained here experience and what her clients have done in a post-pandemic world, "Once I began taking in-person postpartum and birth clients again, I still enjoyed providing online classes. They were convenient for many families with tight schedules and a helpful option for families looking to reduce their exposure at times COVID counts were high in their communities.
"I've also found that some clients are now choosing virtual postpartum appointments to discuss issues like feeding, sleep, routines, and get those comforting reality checks of what's "normal" in those early days at home with little one."
How Do You Start Work As A Doula Online?
First things first, make sure you are a trained doula! If you have not already started, be sure to register for doula training today.
Kelly had some excellent advice for those interested in beginning work online.
"For birth workers interested in offering online services, I'd suggest:
Get familiar with the options that are available both widely across the internet and locally in your community
Determine what makes your offerings/perspective/format/etc. unique
Spend some time ahead learning about engaging online audiences as the techniques for effective engagement are so different from in-person classes
Work carefully to identify your key audience and develop marketing plans of how to reach them. It's a really challenging space right now. Many of the big names have pivoted or gone out of business in the last year or two. And sort out how these fit with the rest of your business. It's easy to get overloaded as small business owners.
Know who you can call on to cover a class if you get called to a birth, get sick, or have another emergency. Like everything else in birth work, it really helps having folks who truly have your back when you need."
Whether you work as a doula online, provide in-person support, or a hybrid, it is important to be flexible. Any experienced birth worker will tell you that birth work ebbs and flows with trends. At times, your inbox will be flood with inquiries for lots of in-person, hands-on support. Other times you might find your inbox filled with questions about online classes, virtual support, and more.
Birth itself does not change. However, the support available, trends, provider styles, etc., is ever changing. As doulas, we can help support our clients as we see services and support change around. Doulas offer a consistency in an ever-changing world.