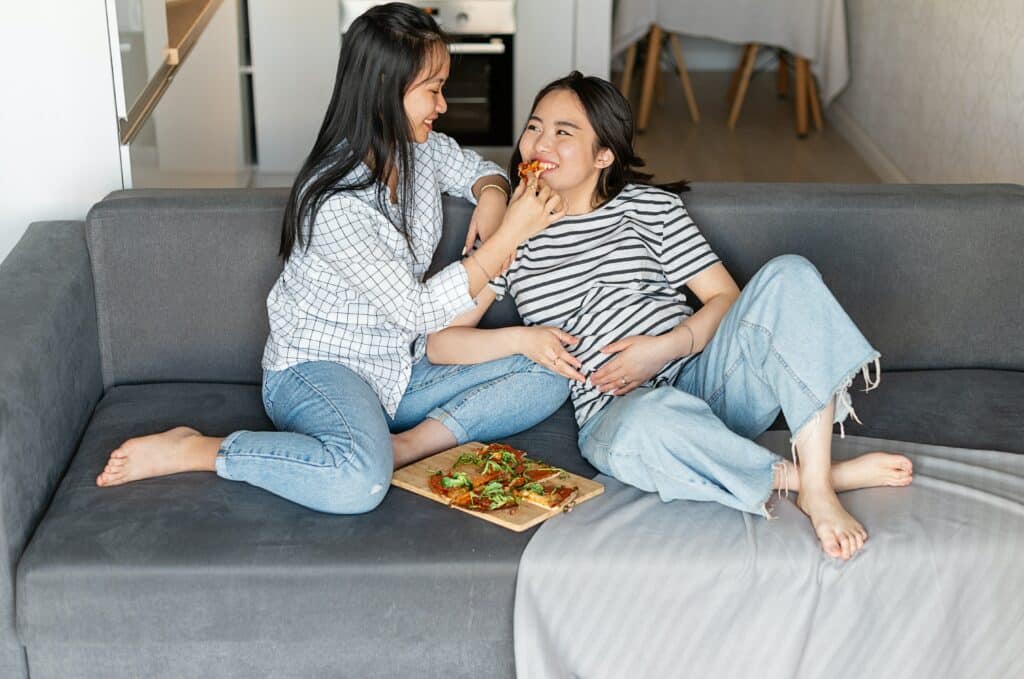 As doulas, we know that a whole body, whole lifestyle, holistic approach can be important in maternity care. In understanding the physiology of pregnancy, this means we recognize that diet, lifestyle, stress, work, and many other factors impact a person's body. New research found a popular diet, the Mediterranean diet, reduces risk of preeclampsia and gestational diabetes.
As birth professionals, it is not shocking that diet can impact birth outcomes. However, knowing that preeclampsia and gestational diabetes can impact any pregnancy person, even the healthiest, makes this study extremely encouraging.
Often, clients feel there's little to no control over whether they will or will not develop preeclampsia or gestational diabetes. And while that remains somewhat true, this research is encouraging that there are ways to reduce the risk.
Popular Diet Reduces Risk of Preeclampsia and Gestational Diabetes – The Study
Despite being a developed country with access to food, medical care, etc., the US has poorer maternal infant outcomes than we should expect. Maternal child health statistics can help provide us with an overall picture of a county's wellness. This means that maternal infant outcomes are a public health concern.
Researchers at Smidt Heart Institute at Cedars-Sinai looked at 7,798 and published the results in the JAMA Network Open. The results were created when:
"Women who were pregnant with their first child were asked to complete a semi-quantitative food frequency questionnaire during their first study visit, which occurred in the first trimester.
The questionnaire focused on the women's eating habits during the three months prior to their visit. The participants were asked to report their intake of common foods and beverages. Individuals' responses were then categorized into the nine components of a Mediterranean diet — vegetables, fruits, nuts, whole grains, legumes, fish, monounsaturated-to-saturated fat ratio, red and processed meats, and alcohol — to calculate a Mediterranean diet score."
Using the score allowed researchers to see which women followed a Mediterranean diet, which is commonly referred to as anti-inflammatory.
While we have some theories, we do not fully understand preeclampsia. There are some notable risk factors. However, there are people with no known risk factors who still develop preeclampsia. With gestational diabetes, we know there are risk factors, genetic predisposition, etc., however, this is another pregnancy complication which can impact anyone.
What The Researchers Found With The Mediterranean Diet
"This multicenter, population-based study validates that a healthier eating pattern is associated with a lower risk of adverse pregnancy outcomes, the most exciting being a 28% lower risk for preeclampsia," said Natalie Bello, MD, MPH, senior and corresponding author of the study and director of Hypertension Research in the Smidt Heart Institute. "Importantly, this connection between the Mediterranean diet and lower risk of adverse pregnancy outcomes was seen in a geographically, racially and ethnically diverse population."
Given there are significant disparities in healthcare, it is encouraging that these results were seen in a diverse population. Certainly, ensuring access to Mediterranean diet friendly foods is a different hurdle, but nonetheless these results are encouraging.
Researchers also noted that there was an increased association in prevention of preeclampsia for one group especially. With this diet among those over 35 years of age. Those over 35 are typically referred to as "advanced maternal age." They are often considered to be at an increased risk for complications.
The data found:
Of the 7,798 women enrolled, 10% were 35 years old or older, 11% were non-Hispanic Black, 17% were Hispanic, and 4% were Asian.
20% of enrollees had obesity at the onset of their participation.
A high Mediterranean diet score was related to 21% lower odds of having any adverse pregnancy outcome, as well as a 28% and 37% lower risk of having preeclampsia/eclampsia and gestational diabetes.
"We also looked at the individual components of the Mediterranean diet and found higher intakes of vegetables, legumes and fish were related to lower associated risk of an adverse pregnancy outcome," said Bello.
What Does This Mean for Birth Workers?
For doulas, childbirth educators, etc., this study reinforces that diet can impact pregnancy outcomes. However, prior to this study, we did not necessarily have specific dietary recommendations which were associated with specific conditions.
Given that a Mediterranean diet is not a strict, fad, or come and go type of diet, it is one we can easily educate our clients about. It is also one which is sustainable for a variety of lifestyles, incomes, etc.
Finally, it is important that we use this study for what it found. The study found a reduction in risk associated with this diet. It did not say that this diet would completely eliminate the risk of preeclampsia or gestational diabetes. Some clients who go on to develop these conditions despite their dietary habits. We can reassure them that they did what they could, but some complications are unfortunately beyond our control.